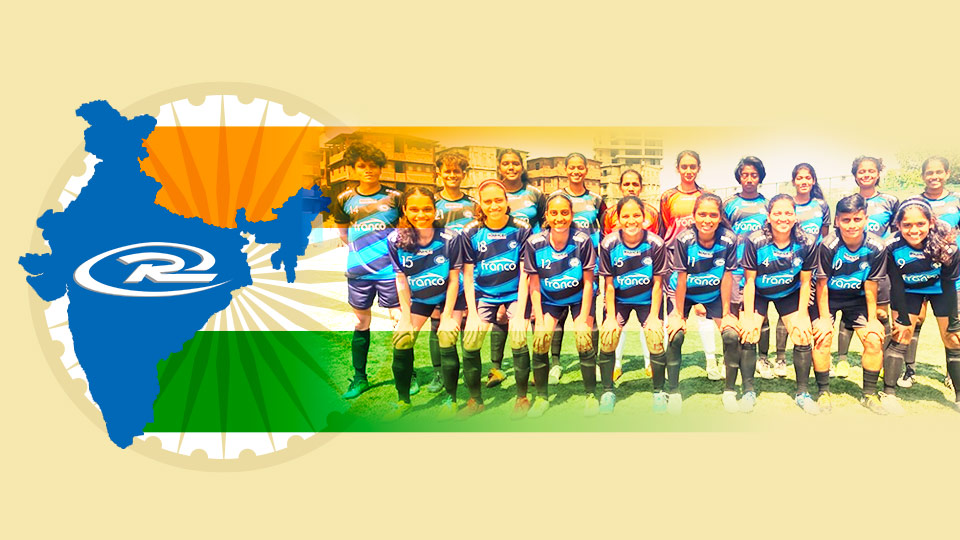 A Rush of Passion
Rush India SC is leading a soccer renaissance at the grassroots level in India.
Studying to become an engineer and without any organized soccer experience, Dennis Fenandes never imagined himself leading a soccer club let alone jumpstarting a soccer movement across India. All it took was one moment after watching India lose yet another football match to ignite his passion that's changing the landscape of soccer in one of the world's most populous countries.
Dennis's first brush with soccer development came at the age of 18 as a member of the
local parish church youth group under the mentorship of Fr. Lawrence. During that time, Dennis learned the nuance of life skill enrichment and core value development through sports. This gave Dennis the idea of what a soccer club could and should look like.
Eventually, Dennis and a group of his friends formed an NGO soccer club to help kids learn the game in a more organized fashion. The founding of the club in Mumbai was the first step in a long journey that eventually led him to Rush, a partnership that has flourished in a challenging environment since 2012.
"Big European clubs would start programs all the time in India and then leave after a couple of years," Dennis said. "We tried to partner with some of these European clubs, but it never worked out, we lost money and had a bad experience. But we kept looking for the right partner because more than anything we wanted knowledge about how to develop players and grow football. And we needed to make that happen from the grassroots level."
Developing the sport in India was challenging enough due to the non-existent training and playing infrastructure. Coaching certifications would happen only once every few years, while leagues lacked structure much less player development pathways.
"We realized we didn't have the knowledge," Dennis said. "And it was obviously hurting the kids. They were not motivated to play without a tournament or a season. The schools preferred to focus on cricket rather than football."
In 2012 Dennis learned about Rush. "It was a godsend to meet Tim Schulz the founder and CEO of Rush USA," Dennis said. "Tim's visit to India opened up the possibilities for truly developing football. As promised in the next few months, we had the Rush globally proven curriculum and a USSF A License coach in India developing the grassroots at a time when there were very few A License coaches in India, all plying their trade with the National team. The long-term player development program in the U.S. for our players was an unheard-of initiative in India."
Partnering with Rush to become the 21st international partner was a perfect match in many ways. "The 11 Rush core values were in sync with our objective to have a value-based club," Dennis said. "Tim Schulz and Justin have just been awesome, their support, trust, and compassion have enforced our belief that Rush truly believes in its core values.
While parents brought their kids to the club hoping that it could transform them into the next big soccer star, Dennis decided to highlight what else Rush could offer. "We told the parents that their kids aren't all going to become the next Ronaldo or Messi," Dennis said. "But we showed them how good values in life can be inculcated through sports while helping them develop at their best. And the value system comes first for us and then the success on the grounds follows."
There's no denying that success has followed for the players who've bought into the Rush way. The list of India Rush SC players who've found success at higher competitive levels is both impressive—and growing.
Rush India SC alumni Ridge DeMello represented U16-U17 India national team and at 18 signed a pro contract with Mohammedan Sporting Club, a professional Indian league team. Hamza Shaikh recently signed a pro contract with Vasco SC, while Suhayl Dholkawala has signed with Southern Samity FC a pro club playing in the 2nd division Indian league.
On the women's front, India Rush SC became the first team in 2017 to win the state championship and qualify for the Indian Women's League National final round. Former India Rush SC girls players Aditi Chouhan, Dalima Chibber, Ritu Rani, and Soumya Nayak are all playing for the Indian women's national team now.
India Rush SC players have consistently featured in the U15 to U18 age group for the state team, national team camp, and Indian Super League Club.
India Rush SC is also looking beyond the youth level, as the men's team has partnered with a second-division Indian league team and also has a team in the highest division in the Mumbai district. On the women's side, they have teams competing in district and state qualifiers in the Indian women's league.
The mark India Rush SC has left on Indian soccer isn't limited to the club itself. After seeing the need for suitable playing grounds, Dennis started working with a company to get turf fields put in all over Mumbai, which had only two just five years ago. They started looking for land to build small-size soccer fields for 5v5 and 7v7 competition. Today, there are more than 300 of these fields throughout Mumbai.
"We were the first club to organize a 5v5 league," Dennis said. "We had never played 5v5 soccer in India. Every Sunday for three months we had more than 400 kids come out and compete in a 5v5 league. Since then we've added 7v7 small-sided tournaments and are competing with other clubs. In ten years, it's completely changed the way we play football at the grassroots level in India."
With all the success the club has had in Mumbai, Dennis and the India Rush SC took advantage of the hard lockdowns in Mumbai (they've only been able to play three months since the pandemic began in March 2020) to expand. They traveled the country to meet with other interested parties and have added five more Rush affiliates.
"We wanted to visit with coaches and communities and find out if they had the kind of passion needed to establish a successful club," Dennis said. "And we found it in most places. In Sarhali village in Punjab state, we were asked by the Sahibjada Ajit Singh Ji School principal about the size of the football field we needed, and the next morning the school principal mowed down a huge area and said, 'Now we have a field.' You can see the desire for the development of the community and sports even in small villages of India. Head coach Onkar Singh has done a stupendous job for developing football in the last five years."
Dennis's passion and enthusiasm for soccer in India is contagious. And it's not surprising for a man who's gone a long way from doing soccer at St. Anthony's Church in Vakla, Mumbai to having a hand in developing some of the players now blossoming for his country's national team and realizing their goal.
Dennis hasn't done it alone, developing a committed team that includes George Lawrence, who has developed into a fine technical direction, as well as Vinod Nalawde, Hussain Dholkawala, Naaznin Hussein, and Elvis Goes.
Where many big brands failed, Rush found unprecedented success. What Rush can offer in terms of player development and teaching a value system that goes beyond the pitch is unparalleled in India.
"The Rush Nation growth story in India is a story of success of the value system and of the many friendships that were made in India and Internationally," Dennis said.