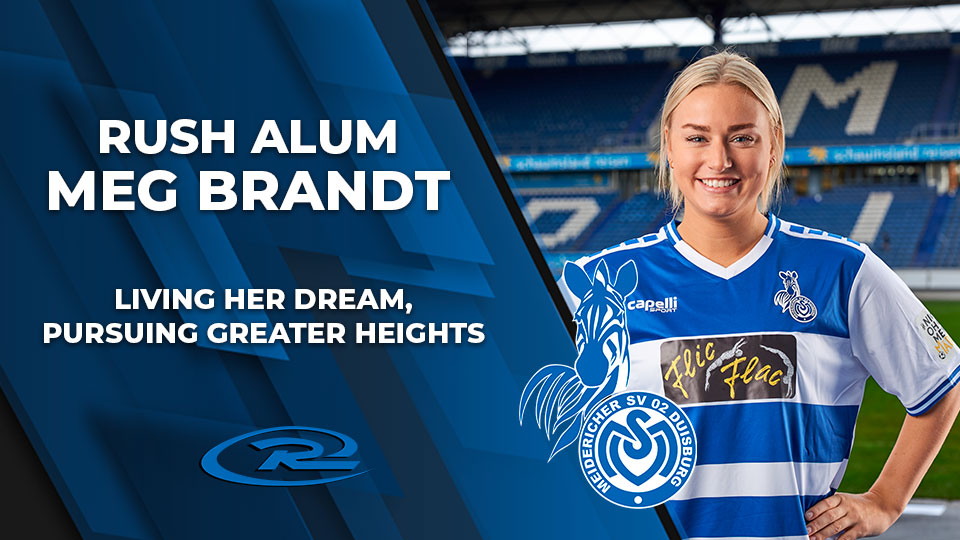 Rush Alum Meg Brandt, Pursuing Greater Heights
When Meg Brandt was in the fifth grade, her teacher asked students to write down what they wanted to be when they grew up. Meg scrawled down that she wanted to be a professional soccer player.
And years of hard work later, the Rush Soccer alum proved that goal was far more than a pipe dream.
"I had really big dreams for soccer," Meg said. "So when I was with Iowa Rush, I wanted to play at the highest competitive level, and I told them that I wanted to play college soccer at the Division 1 level. And they were excited about helping me achieve that."
Meg wound up at Nebraska, where she earned Big Ten All-Freshman team honors before eventually being selected to the Big Ten All-Tournament team her junior season.
"I committed at a young age," she said, "and that kind of changes things. Some players get too satisfied. But I was like, 'Okay, I'm committed. That was my goal.' But Rush pushed me more after I committed, which I'm really thankful for because I knew I had a lot more work to do."
By the time she finished her career there, Meg had received an invite to play for the U.S. Women's U-23 team and had turned the heads of professional scouts.
Then Meg was drafted by the Seattle Reign in the fourth round of the 2020 NWSL draft but never played a game after the league decided to shut down in the early stages of the pandemic. Her rights were traded to Kansas City, but she realized that she still had a lot more work to do.
"I want to play in the U.S., but it wasn't the right time for me," Meg said. "I needed to get more experience professionally. So I decided that going overseas was the best option."
Meg first went to Norway, playing there for three months before seeking out other opportunities in Europe that would better suit her. And she found that at MSV Duisburg in Germany, a second league women's Bundesliga team.
"It's a totally rebuilding process for us in the second Bundesliga," Meg said. "We're hoping to get promoted, which is the goal."
Meg is also aiming to elevate her personal game in the process as she continues to develop even after reaching her goal of playing soccer professionally.
"I've always felt like I had a lot of room to improve," Meg said. "And I still do. That's why I'm doing this. I can't see myself stopping to play soccer anytime soon. So, I'm really hoping within the next two to three years, I can be back in the U.S. playing and successful at the highest level."
No matter what ultimately happens with Meg's career, she credits Rush for helping prepare her for each step in the journey.
"I think that I was well prepared because of Rush," Meg said. "They held us to a high standard, showing us how to be as professional as possible, for example on away trips. With Rush when we go to tournaments, like whether it was all the girls wearing the same clothes to travel in or stopping and stretching on the way to tournaments. We were also taught that if you're on time, you're late basically, so to be early to everything that carried over for me, and it's taught me to be a lot more per professional."