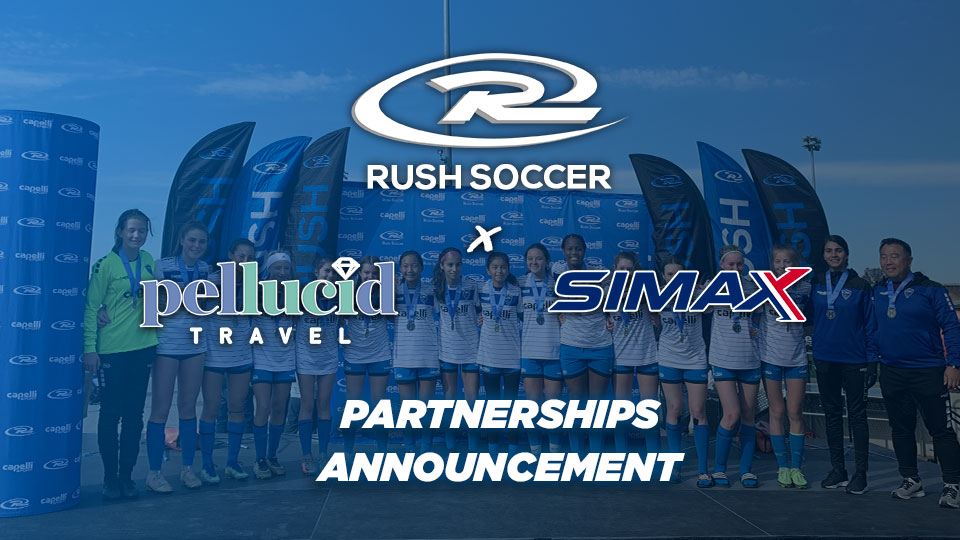 New Tournament Partners
Rush Soccer announces two new tournament partners and a new deal with an existing one
NEW YORK, N.Y. — Rush Soccer has secured two new tournament partners, which will assist clubs with elements of travel and apparel, according to Rush Director of Tournaments Steve Lovgren.
Pellucid Travel has been designated as the official housing partner for Rush Soccer and will be providing housing services for member clubs for their events.
"We're excited to be working with Rush clubs in providing world-class service for their teams and participants in upcoming events," said Shannon Barrows, the CEO, and owner of Pellucid Travel.
"Given the amount of experience Pellucid Travel and its connections with local Convention and Visitors Bureaus, we think this group is going to help Rush clubs take their tournaments to the next level," Lovgren said.
Simax Sports is the other new tournament partner, an on-site heat press apparel company with a great reputation for superb customer service and a proven track record of good experience for tournament participants. The Atlanta-based company will be providing screen print t-shirts and other apparel from Capelli, Rush's exclusive clothing partner, at upcoming events.
"We look forward to providing quality products and great service at Rush tournaments in the future," said Yuriy Radchuck, Simax Sports CEO and founder.
"The kicker is that Simax will be carrying Capelli gear at all Rush events," Lovgren said. "This will be a great way to provide support to another partner that has supported Rush so fervently over the years."
Lovgren also shared that Rush has renewed its contract with Wilson Trophy Company, which will be providing discounted awards. However, new to the agreement will be Wilson Trophy providing co-branded items for winners' circles, including backdrops, wind feathers, frame pop-ups, mesh banners, and other items to elevate the award ceremony environments.
About Simax: Simax Sports is a national sporting apparel industry that works hand in hand with executives, directors, business owners, and coaches of soccer, lacrosse, gymnastics, track n field, swimming, wrestling, regattas, cheer, féis, etc. Simax is rapidly expanding its services throughout the U.S. to provide the best quality custom printed apparel both on-site at the tournaments and by orders. We have serviced events with 50 teams or 3,000 teams. Simax highly values all relationships with events and tournaments, and we take on every job with passion and dignity.
About Pellucid Travel: Pellucid travel is a full-service sports housing agency, focused on making good things happen for other people. We have easy processes, clear and transparent communication, and the knowledge and experience to find you the right housing solutions.