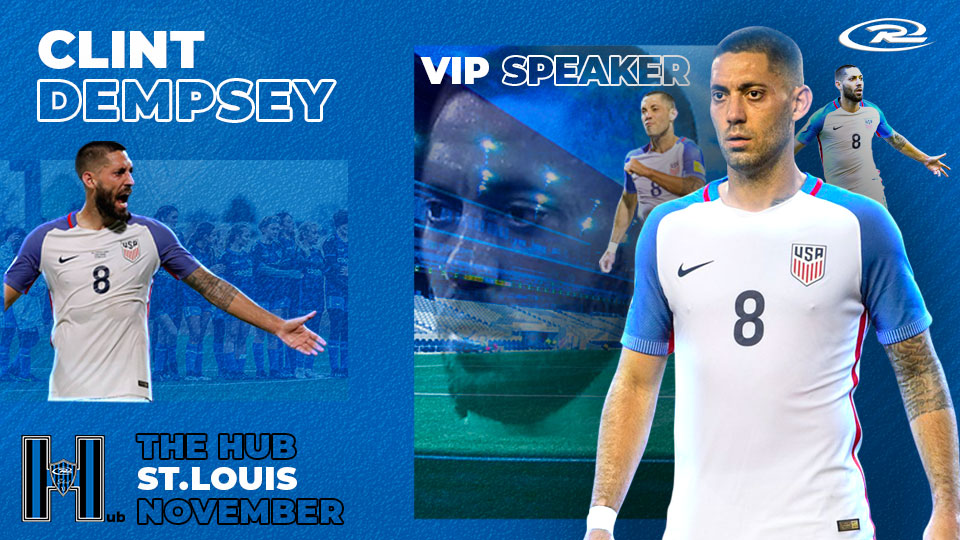 Clint Dempsey, VIP Speaker at the Rush Select HUB
The Rush Select Hub will take place in St. Louis, Missouri November 18-21, 2021. The Hub is a Select Regional Team event where the best male and female U13-U15 players from across the country will come to compete to see which region will be crowned the Hub Champion. The players attending are from the Northeast, Midwest, South, and West regions. The Regional Teams will also be competing against Canada.
As part of a new special program added this year, the Colorado Rush 2009 Girls will also be attending and competing as they were identified as the best Rush team at this year's Rush Fest. Rush Fest is a fun and exciting event for all U13 Rush teams. 
Leading these teams are top coaches from more than 25 different clubs across Rush Nation. Besides multiple days of gameplay, the HUB will be hosting coaching education events for all interested Rush coaches. These events are a great way for coaches to learn the Rush Way, network, and observe high-level players and coaches. Also in attendance will be Rush Soccer's top scouts; our scouts will be evaluating the players and coaches for future high-level opportunities. 
The weekend opening ceremony will kick off in style with special guest speaker and former US Men's National Team Captain, Clint Dempsey. As you may have heard, Clint had a tremendous professional career playing for the New England Revolution, Fulham, Tottenham Hotspur, and Seattle Sounders. During his career, he made 141 appearances for the United States Men's National Team and is tied for the USMNT record for all-time leading goal scorer, with a total of 57 goals.
The Rush Select Staff is extremely excited for the Hub. We are looking forward to having the best of the best in St. Louis in November. Please make sure to check the Rush Select section of our website for more updates leading up to and during the Hub. We also encourage you to follow us on Facebook and Instagram!