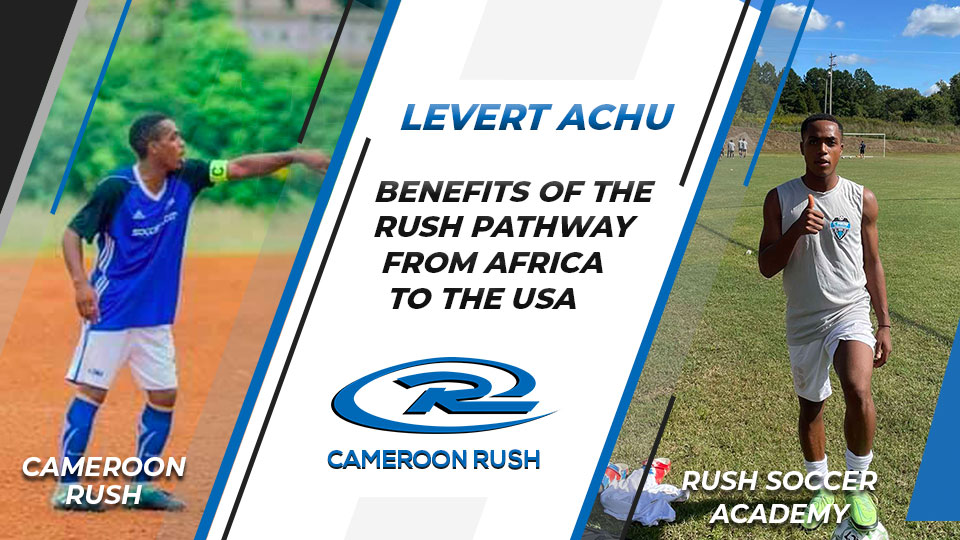 Levert Achu, from Cameroon Rush to the USA
After months of joint efforts from the Rush international affairs department and Cameroon Rush, Levert Achu, captain of Rush FM FC in Cameroon (Bamenda), arrived less than a week ago at the Rush Soccer Academy in the United States of America.
The 2005 player, star of his team, and midfielder for Rush FM FC in Cameroon, recently began training alongside his new USA teammates and is excited to see where this new journey in the USA takes him.
After three years of intense training, Levert looks back on his time with Rush Soccer: 
"​​Rush is renowned to be one of the best football clubs in Bamenda because of its excellence, hard work, and commitment to football. We have many great talents there who are willing to get higher in their academic career." 
Levert is a perfect example of the Rush pathway from Africa to the USA. After putting hours of hard work into training, he was recognized and scouted by the Rush staff and was awarded a full-ride scholarship to the Rush Soccer Academy. Just like him, other players benefited from this pathway, the most famous of them being Kekutah Manneh from Gambia Rush, who is currently excelling in the MLS. 
Cameroon Rush, aka Rush FM FC is one of the best schools of soccer in Africa. "They are doing a tremendous work and are proudly representing the Rush Way," said Tim Schulz, CEO & President of Rush Soccer. 
The future is bright for Levert as he will begin his professional career after joining the ranks of the Rush Academy.
He also has a few words regarding his former teammates in Cameroon: 
"We have numerous players within our club with incredible potential that are very skilled, and are willing to benefit from the Rush pathway to be recruited to start a professional career in the USA".