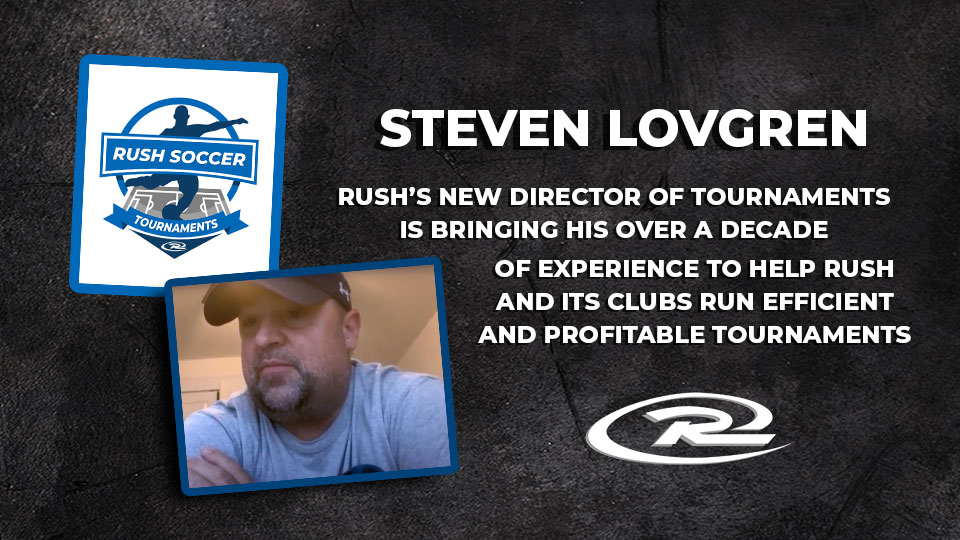 Meet Steven Lovgren, Rush's New Director of Tournaments
Rush recently named Steven Lovgren its Director of Tournaments. Lovgren is bringing over a decade of experience to help Rush and its clubs run efficient and profitable tournaments. This year, he's running 54 tournaments in 15 states, including tourneys for Iowa Rush and Wisconsin Rush.
So, what exactly is his role and how will he help Rush clubs? We caught up with Steve to talk about what he intends to bring to Rush and what he envisions in this role.
Q: How did this role come about for you?
I own a company called Soccer Management Company, so I know cities and tournaments like the back of my hand. One of the components that Rush hasn't really embarked on is providing services for tournaments. I started talking with Tim [Schultz] and Justin [Miller] and told them this is my passion, this is what I do. So, they brought me on as a tournament director for Rush.
Q: How exactly are you going to be helping existing clubs who want to put on a tournament?
I'm going to try to create an environment for tournament directors and in that environment, I want to be able to help them with their events. I want to create a Rush directory of tournaments so that when executive directors and technical directors begin their tournament selection process, they can look at a list of all the upcoming Rush tournament events. My goal is to help out technically and make existing events better. Tournament directors are sometimes on an island by themselves because nobody else understands the details that go into these types of events. I want to make their life easier.
Q: How is what you're doing a little bit unique to the soccer tournament world?
Tournament directing is a challenge. There are a lot of roads to navigate, the market is very saturated. A trend we're seeing is "sports tourism" where clubs build these big complexes and have to get events at them. Everybody is being pressured to do these things. From the club's perspective, these tournaments are big money makers that can help fund their staffing. But all that's a very tough road to navigate for a volunteer or someone who's in a part-time position. I'm not part-time, so I'm immersed in this and that's all. So I want to bring in my experience to help Rush sidestep potential pitfalls of different things. My goal is to streamline this whole process for everyone.
Q: What's your vision for Rush with these tournaments?
The Select events are very important, these events help identify talented players so we can get them playing at a higher level. Making these events the best I can is one way I intend to service the Rush program. The other thing that I'm looking to accomplish is general improvements across the board, I want to provide a support system, be a director, as well as negotiate lower costs. All of that is again to streamline the development process for the clubs. That takes work off of the executive director's hands so there's less for them to do. This is all the type of training and work that I want to do to help directors and give them success. Sometimes some of these tournaments need to get into the Rush Machine. That's what I like calling it. The Rush Machine is phenomenal. I mean, look at the number of people we have good people that can help get in behind something and really push and press what we're doing. I'm very new, but my eyes are kind of glazed over and I'm excited about the possibilities of everybody working together on these items.