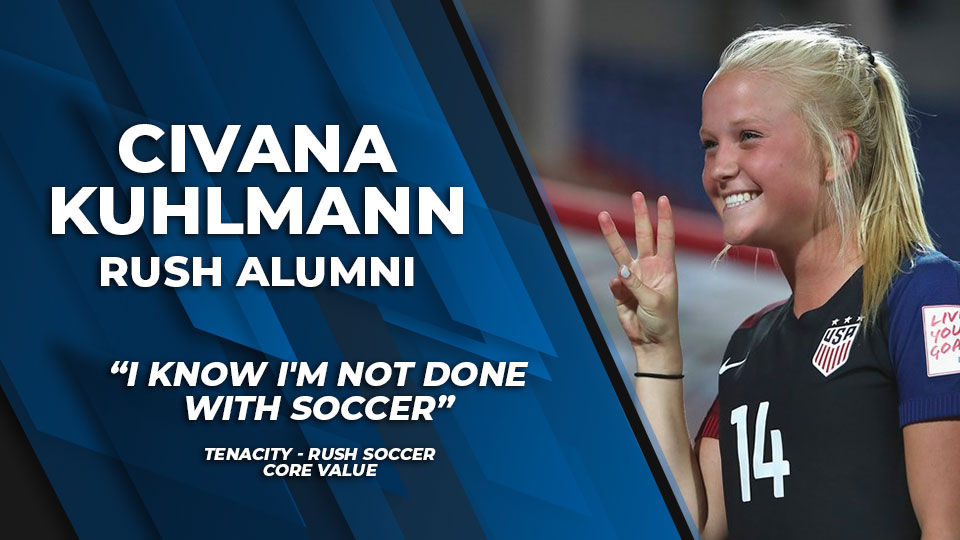 Civana Kuhlmann Overcoming Adversity
If Civana Kuhlmann had decided to quit pursuing her dream of becoming a professional soccer player, nobody would question her. The hundreds of hours she's spent in rehab to return from devastating injuries would make most people look for a new direction.
But Civana isn't like most people.
"I like to think I'm a driven individual," she said.
That's as much of an understatement as saying Messi is just a "pretty good soccer player."
Civana's determination while staring at a mountain of work still casting a long shadow over her path to professional soccer is inspiring, especially given what she's had to endure.
Path to Success
To suggest that Civana's soccer future was anything other than bright eight years ago would've sounded insane. After accepting an invitation to play with the U.S. Women's U-17 team at the age of 14, she became the youngest U.S. player to ever score in a U-17 match and later became the only U.S. player to record a hat trick in the U-17 World Cup.
While starring on her Rush club team in Colorado during the next four years, she attracted attention from all the top college programs before settling on Stanford. Meanwhile, she solidified her position within the USWNT development program and was invited to play on the Women's U-20 World Cup team. 
Her trajectory seemed almost certain, given her talent and work ethic. But then the smooth ride to stardom vanished.
"After my freshman year [at Stanford], I picked up a shin injury that took me out of the U-20 World Cup. 
"My freshman year I picked up a shin injury," Civana said. "So I had a little bump in the road there which took me out of the U-20 World Cup."
Mounting Injuries
After recovering to play her sophomore year, the bump in the road turned into a pothole when she tore her ACL four days into preseason of her junior season in 2019. When her meniscus didn't heal properly, she had to have another surgery six months later. 
And just as she was ready to return to the field, Covid hit, pushing the women's soccer season into the spring of 2021. She was healthy enough to play the shortened season and scored four goals, all game winners for the Cardinal.
But then another devastating pothole, this time a torn labrum and microfracture in her hip. And she made the difficult decision to end her college career with two years of eligibility remaining.
"When I tore my ACL going into my junior year, I was planning on making a full comeback for Stanford and I was extremely focused on being the best teammate I could be, making sure I was lifting up the team in any way I could," Civana said. "And it was great. We ended that season with a national championship. So that was awesome. But this time around I'd say it's a little different."
The toll of her rehab while juggling schoolwork and the pain of only being able to watch but not play for another year started to weigh on Civana.
"I had to make my first mindset shift," Civana said. "During this injury, that mindset shift was just like, 'Okay, I'm preparing and rehabbing to be a professional.' There's a lot of disappointment and I felt as if being in that environment still with my Stanford teammates would've just highlighted, a lot of disappointment. So I had to take early steps to eradicate as much of that as possible. The journey to go pro is always going to be tough whether you're healthy or not. And now it's going to be a little tougher."
A Fresh Outlook
But Civana remains undaunted by the challenge, harkening back to her days with Rush and the core values instilled in her during that time.
"I miss my days at Rush," Civana said. "I love Rush. It definitely made me the player that I was and still am, the player that was able to go to Stanford. I think of waking up early to go to the center before school and getting in extra technical training. And I think of the core values and how Eric Bushey never letting me be complacent with where I was at. No matter how good of a spot I might have thought it was in, I'd have Eric to bring me right back down in a great way."
And despite the derailment of what could've been an even more highly-decorated collegiate career at Stanford, Civana seems focused, not bitter.
"I know I'm not done with soccer," she said. "Three major surgeries is difficult and it may make you feel like you're done with it, but I know personally that I'm not. And as long as I feel that way and as long as I believe that, then there's more to come."
Civana now spends her days finishing up school work at Stanford and rehabbing, preparing for what's next. And regardless of where her path eventually takes her, she hopes her story can inspire other players facing adversity.
"My college career was completely upended and took a course that I would have never imagined," said Civana, who still managed to play in three College Cups and win two national titles during her time there. "As a youth player, I was never ever injured. You never imagine your college career and work injuries into your vision.
"I feel like a lot of times we want to figure out the why, and we want to have answers for hardship and adversity. And I would say to not try and figure out the why. I think the journey tells you the why but the journey is taking one day at a time. An injury or any hardship doesn't end your journey. It just makes it look a little different than you probably anticipated. But that's okay."
No matter what happens for Civana's future on the soccer pitch, there's little doubt that she's going to be okay one way or another.