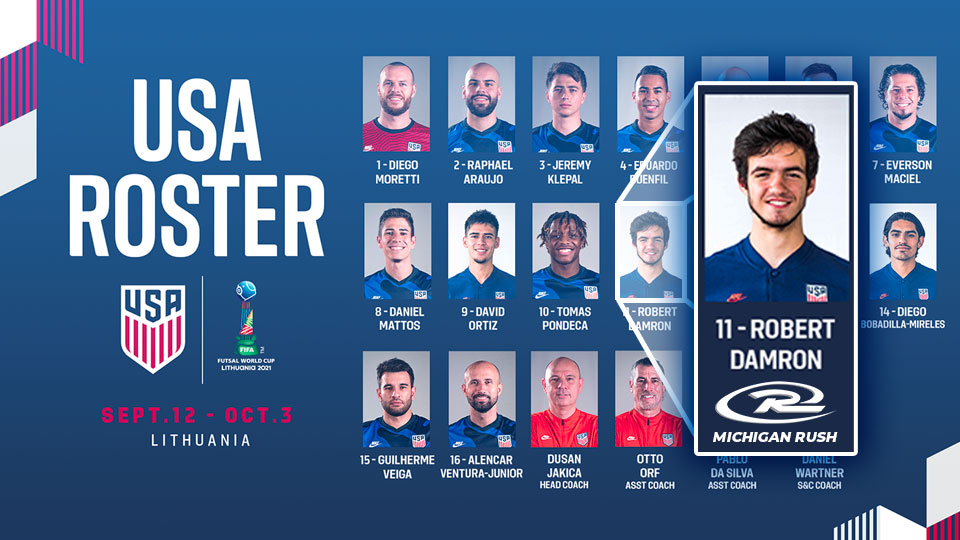 Robert Damron Living The Dream
Former Rush Select standout Robert Damron to represent U.S. in Futsal World Cup.
Robert Damron always dreamed of representing the United States—he just didn't realize it would happen so soon.
The 19-year-old goalkeeper and Rush alum will be wearing his U.S. jersey with pride when the FIFA Futsal World Cup gets underway this month in Lithuania.
"I remember back when I was six or seven years old in my grandparents' backyard kicking the ball against the fence and pretending to play for the United States," Damron said from Slovakia, where the U.S. team is currently training. "And now to be able to do it 12 or 13 years later and actually get to wear the badge—it's unreal."
Damron's path from Michigan Rush Northville standout to the U.S. Men's futsal team wasn't conventional, though he credits Rush with making it happen. His club started a futsal program, which allowed Damron to work on his goal-keeping skills during Michigan's long winter months.
As Damron continued to develop, he earned a slot playing in the Rush Select program, which he credits with giving him the skills—both for the game and life—to handle this moment.
"If it wasn't for a program like Rush Select, I probably wouldn't be able to do something like this," Damron said. "I was able to travel on my own and learn the Rush core values, which helped me so much in my professionalism."
Damron eventually found his way onto the Madonna University roster playing for Michigan Rush Northville technical director Mark Zathey, who serves as the head coach for the men's team. However, Damron, who chose the remote learning option entering his sophomore year of college this fall, couldn't anticipate the opportunity to play for the U.S. futsal team, especially since he wasn't initially invited to the team's pre-tournament camp.
But just before camp started, one keeper invitee tested positive for Covid and opened the door for Damron's invitation. He took full advantage of the opportunity, impressing the coaches enough to earn a roster spot.
While Damron has found success in the game of soccer, he's excelled in futsal, a game which requires a different skill set to be successful for keepers and field players alike.
"In futsal, it's a lot more about staying big," Damron said. "Don't be afraid to get hit. Use everything that you have—your head, your feet, your chest, everything. Just throw yourself at it. In soccer, you have to dive and be a lot more mobile than you are in futsal."
And that's fine by Damron, who has grown to prefer futsal over the outdoor game.
"I always wanted to play in goal," Damron said. "That was my thing. I hated running. My coaches would always say, 'You gotta play in the field, too. You gotta do both.' So until I was 13 or 14, I played half and half. But when I started playing futsal, I was strictly a keeper."
It's a skill that has afforded him this opportunity at such a young age, a fact that wasn't lost on U.S. head coach Dusan Jakica.
"We were having an emotional moment because we were getting ready for the World Cup and tearing up and our coach looks at the oldest player on our team, who's 43, and then says, 'Hey, you could be his dad', and then he points to me. So, there's a pretty big age gap on our team. It's kind of crazy."
The U.S. team will need all the experience it has—plus Damron's mad skills in goal—if the U.S. is going to win its first game in the Futsal World Cup since 2004. The U.S. has only won two games in the World Cup since finishing as the tournament's runner-up to Brazil in 1992.
And the task won't be easy either since the U.S. finds itself in the group of death with 2016 World Cup champion Argentina and third-place finisher Iran along with a tough Serbia squad.
"These teams [in our group] are phenomenal," Damron said. "But we really think that we have a chance to come in and surprise them if we play our game."
The U.S. will take on the defending champs in Argentina to open group play on Sept. 14th. FoxSports will televise the games in the U.S.
For more information to follow the tournament, visit the Futsal World Cup 2021 website.