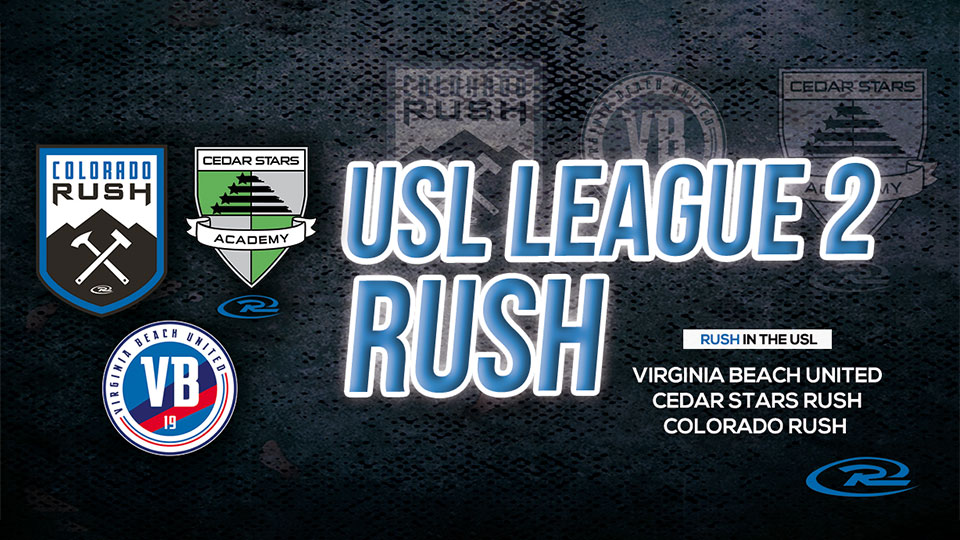 Rush USL 2 Team Creates More Pathways
For Rush Soccer, the refrain is becoming a constant one: Another year, another dozen new pathways. And with a new USL 2 team, Rush Soccer is adding what abouts to another expressway, giving the club three teams that it backs in the nation's premier amateur league.
Rush backs 2 other teams in the USL 2 league—Cedar Stars Rush (New Jersey) and Virginia Beach United (a collaboration between Virginia Rush and Beach FC), and shows its fierce commitment to creating more opportunities for aspiring players.
After a delayed start due to the pandemic hitting just before the beginning of the 2020 season, Rush's newest USL 2 team began its inaugural campaign this spring in the Denver area. However, instead of chalking up last year as a lost one, Rush made lemonade out of lemons.
"We had everything ready to go for 2020 and held our press conference in February—and then Covid hit," said Joe Webb, the Rush Pro Development CEO. "Early on, everybody was still hoping that the season would happen until they officially cancelled it. So we used all of the Covid time to build relationships with these players and let them train with each other.
"When they got back on campus, a lot of their college coaches called us and asked us, 'What did you guys do? These players came back fitter and in better playing form than they've ever been in.'"
The trickle-down effect from the pandemic has continued to effect the inaugural season as well for Rush, as the switch to spring for the college season delayed a handful of players from joining the team until a week before USL 2 started.
"We've still been flying by the seat of our pants, a lot more than I'd like to going into a season," Webb said. "So, there have been a lot of challenges in that regard."
But Webb is excited that the team is finally getting to play, creating more highly competitive environments for bright prospects to develop and hone their skills. He sees Rush's new team as a place for elite college players and other young standouts to take the next step.
"This league is a breeding ground for players who want to get to the pro level," Webb said. "We don't have a lot of restrictions that college coaches have. So, it's really a professional environment for the players over the summer. They're here to focus on playing soccer and get that professional regimen every day. They're training in the morning and they're going to strength and conditioning training in the afternoon and have injury prevention work with physical trainers in the evening. It's just a great place for them to prepare for that next step and get a taste of what it's like."
While the team is comprised of both national and international players, there are several players who have developed out of the Rush youth program—including Bailey Rouse and Luke Hansen—and are competing on the USL 2 team in hopes of landing pro contracts.
"We want players in here who have high aspirations and the desire to do what it takes to become a professional," Webb said. "And it's exciting to be working with kids like that."
Rush also backs two other teams in the USL 2 league—Cedar Stars Rush (New Jersey) and  Virginia Beach United (a collaboration between Virginia Rush and Beach FC).
To learn more about Rush's USL 2 teams and the program itself, visit www.RushProDevelopment.com