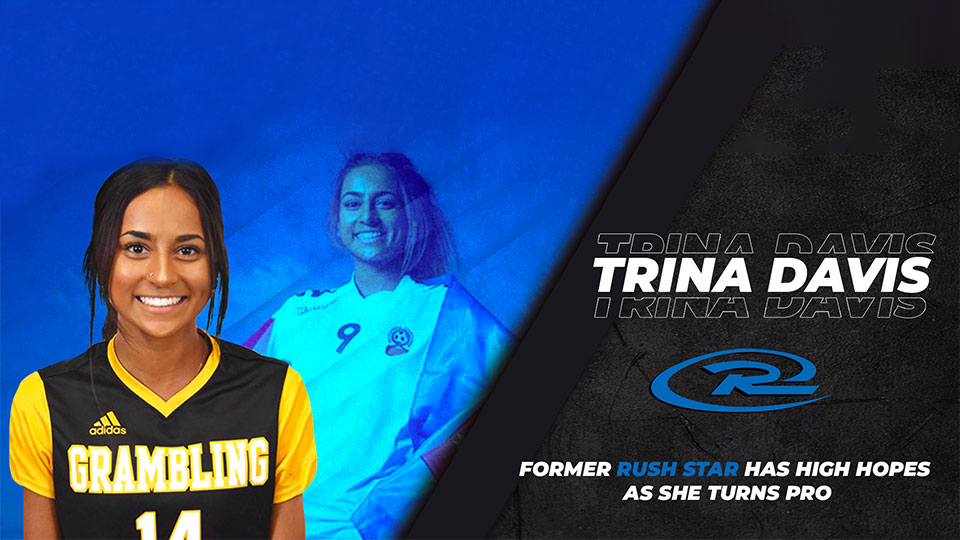 Trina Davis Makes It Pro
When Trina Davis first attended Rush Fest as a 12 year old, she couldn't have imagined the journey that would unfolded for her soccer career. And it's only getting started for the 19-year-old forward.
"When I started playing for Rush, my coaches really wanted me to go to Rush Fest in Colorado," said Davis, a Washington Rush product. "We didn't know if I could go because playing club soccer was expensive. But I got sponsored and so I went."
Upon seeing Davis play, Russell Finch, the girls director at Colorado Rush, invited her to join his ECNL team, commuting from Washington—and she accepted. What's happened since then has been a seven-year whirlwind ride that has already had seen her score five goals in a World Cup qualifying tournament, tear her ACL, and then fight back through rehab to earn a professional contract playing overseas.
"My biggest dream since I was a little girl was to play in the World Cup," Davis said from Tel Aviv, Israel. "And I'm 19 years old and this is right in front of me … it's crazy."
As Davis turned heads while playing for various Rush teams in Colorado and Washington during high school, she landed a scholarship to Grambling State in Louisiana. But through her connections there, she learned about an opportunity to play with the Fiji women's national team.
Since her mom still retained her Fijian citizenship, Davis was able to roster for the women's team at the age of 16.
"I wrote down as a kid that my goal was to play in the World Cup, but I always thought I would play for the U.S. national team," Davis said. "But being able to actually represent Fiji is more meaningful to me and my family because my mom was unable to play soccer growing up there since girls weren't allowed to play sports."
In 2018, Davis found herself in a foreign world, enduring the strictest training regimen of her young career. It also meant forgoing playing high school soccer during her senior year.
"It was difficult," Davis said. "When I got to Fiji, I didn't know the language very well. The coaches were strict about everything we did—our diet, our routine. They even took our phones away from us during the day to help us prepare mentally.
"I was all so exciting, but when I did get my phone back, it was the middle of the night back home, so it was difficult for me to even call my parents and tell them what was going on."
All the training and hard work paid off for Davis, who finished the Oceania Football Confederations Nations Cup qualifier tournament with five goals to lead Fiji in scoring. Fiji, however, fell one game short of qualifying, losing to six-time OFC champion New Zealand in the finals.
But with the women's world cup expanding to 32 teams in 2023 and New Zealand and Australia both hosting the event, Davis is hopeful about Fiji's opportunity to qualify for the World Cup finals for the first time in the country's history.
"It's like a dream come true, but it takes a lot of sacrifice and dedication," Davis said. "I think it all started for me at Rush, where I learned about determination and hard work. I had to make a lot of sacrifices but I knew it would pay off for me one day."
Aside from her World Cup dreams, Davis also hoped to play professionally as well. But those hopes took an unexpected detour when she blew out her knee in training camp at Grambling State. She withdrew from school to focus on rehab, which meant going almost two years without playing in a game.
She worked with a trainer four days a week to regain her strength, speed, and agility.
"I had to drive two hours away from my house," Davis said. "So, I had to sit in traffic a lot, but it was just determination. This was something I wanted to do, to be a professional soccer player one day."
As Davis regained her strength, her agent called her and asked her if she was interested in playing overseas for a club in Israel. She jumped at the opportunity and was on a plane the next day with a contract to compete for ASA Tel Aviv University, becoming the first Fijian national team member to play professionally.
If ASA Tel Aviv finishes strong this spring, Davis might find herself playing in the women's UEFA Champion's League later this summer. Either way, her options will be wide open.
No matter where she ends up, Davis wants to inspire other girls to continue to pursue their soccer dreams, like she did recently in Tel Aviv.
A family whose 12-year-old daughter played at Washington Rush moved to Israel but heard about Davis playing in Tel Avis through the club newsletter. The family reached out to Davis and invited her over for dinner where they got to play board games and hang out. But Davis learned that the daughter was having a hard time adjusting to soccer in Israel due to the language barrier.
"Her parents told me later that it really boosted her daughter's confidence talking to me," Davis said. "She switched to a different club and is doing really well. That just made me very emotional because she didn't quit playing because she saw I made it. That was very touching."