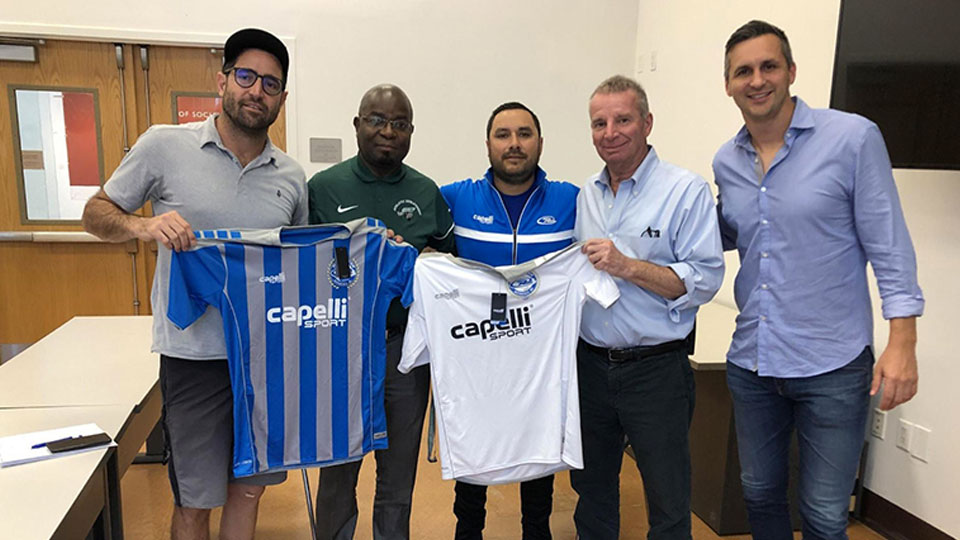 Rush Soccer's REACH Program Continues Its Support
As Rush Soccer continues to support soccer communities around the world, we are proud to share the story of one of our R.E.A.C.H. or U.N. clubs, which is our clubs that don't pay for any Rush services and receive help from uniforms to equipment. Little Haiti Rush is our only domestic U.N. club based in Florida. Pablo Gentile is one of the directors. He was born in Argentina and moved to the Dallas area when he was 9. The Little Haiti soccer program allowed him to be involved in a program with the right values and give back. We asked Pablo a few questions regarding his program and background. He felt that it is important for him to be involved with such an organization. Here is what he has to say about his experience in the U.S.A., " I am a product of the American soccer system. When we came to this country, my parents worked multiple jobs to make ends meet and support my brothers and me. In those early years, I received lots of help from my teammates, their parents, and coaches with rides to practices, games, tournaments, and financial support. They changed the trajectory of my life. I am grateful and indebted to them to give back.
What are the benefits of joining Rush Soccer? 
Initially, we created Little Haiti to give our most talented kids a pathway to chase their soccer dreams, whether at the college or pro level. Rush is known worldwide and respected as one of the best clubs in the United States. We are quickly learning that the benefits extend much, much further. There is a clear pathway for the players to earn opportunities to play in higher leagues with Miami Rush Kendall but the organizational support in marketing, branding, coaching education, imaging, a website will be invaluable.
Why, and when did you join Rush Soccer? 
We joined Rush last year before the pandemic. We have to thank Kristian Gonzalez (Capelli), Raoul Voss (Global Sporting Director), and Renatto Soriano (DOC at Miami Rush Kendall) for their part in making this come together as well. It has been a group project from the onset. Once we met as a group with the Little Haiti F.C. Board of Directors and Tim Schultz on Facetime, we knew it was a perfect fit for our program. Tim and his team have welcomed us from the start. And once Nik started the onboarding process by connecting me with the endless web of Rush resources, we knew we were now a part of something very, very special. We believe that our talent pool will benefit tremendously from this partnership, but we are very aware of the responsibility for everyone to represent Rush positively. We pass on that message often to the players "we are a part of something bigger now. We need to carry ourselves like it. Many people around the world wear the Rush logo."
Your Club is the only U.N club among the Rush Soccer clubs in the United States. Can you tell us a little bit about your program and what sets your organization apart from all other domestic Rush Clubs? 
Little Haiti is an inner-city neighborhood, 60 blocks north of downtown Miami. Laleau Gomez and Pat Santangelo started the Club, and Mallory Kauderer, Samuel Prunier, Jean Armand, and Father Reginald joined them as the dedicated team of directors. They work in local public schools, churches, and local businesses. Their aim has always been the same, to get the kids off the streets and educate them through team sports. We also have a dedicated team of coaches who don't make very much money but serve as coaches, mentors, role models, and drivers. The numbers are growing, but we have around 120 players, ages 5-19, in our program. Most of our players were either born in Haiti or are of Haitian descent. They are passionate about the game. With few exceptions, the players either walk to the park, get rides with coaches or take city buses to practice. Although we do not practice every day, it is common to hear them say that they play Soccer 6 days a week, every day except for Sundays, when they attend church and spend time with their families. Those of us who grew up loving the ball and joining games can relate to the kids in our program.
Since you decided to join Rush, is there a particular moment or memory that stands out for you about Rush that you would like to share with us?
From the initial conversation with Mr. Schulz to all of the communication we have had since then, we have felt supported and welcomed. This program is just getting started, and we have potential and talent but not much history of official success on the field yet (We will start playing in F.Y.S.A. leagues next year). The trust and love from those associated with Rush have been humbling.
Is there an achievement or contribution that you are most proud of?
The people who have been with Little Haiti F.C. Since day 1 are proud to say that 100% of the kids in the soccer program went on to graduate high school. For most, if not all of them, they are the first in their families to earn a diploma.
What is Little Haiti Rush's mission? 
To give kids a safe environment to play Soccer. Positive coaches and role models to guide them in school, in Soccer, and life. To educate them on character development, being responsible, coachable, good teammates. Soccer gives us the platform to teach these things. A very small percentage will play pro soccer, but they will all have to grow up to be good citizens.
What was the biggest challenge your Club is facing Right now?
Transportation is a hurdle. Two years ago, we had a tragedy with three players losing their lives walking to a bus stop to attend a game. It was tragic. That cannot happen ever again. Each of their home lives is different. Some of them live with extended family members. Are they eating properly? Are they getting enough rest? And of course, the financial component of hiring coaches, paying for player cards, registration fees, leagues, tournaments, referees, etc. We are grateful for the support from Capelli in providing much-needed equipment.
What can Rush Soccer do to help, if anything? 
You have opened the doors to your Club and your staff. Thank you. It is up to us to represent you all in the best way possible. We want to make you proud.
What do you want the Rush nation to know about your Club here in Florida? 
That we are proud to be a part of Rush, we have some talented young players hungry for an opportunity to help their families. I spoke to one player last week who lives with his grandparents. He said he wants to go to college to make his grandparents proud of him for all they have sacrificed for him. Many players like him love the game, and they see it as a vehicle to improve their lives and the lives of their families.
If anybody in Rush Nation wants to help Little Haiti F.C. in any way, Pablo can be reached at pablo@littlehaitirushsoccer.com